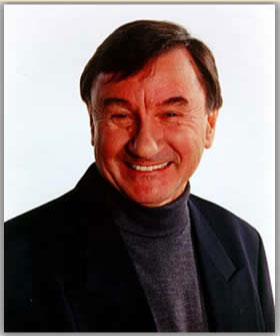 Acclaimed cartoonist Ben Wicks was a pint-sized cockney who never lost his accent or his sense of humour.
Wicks made a name for himself in Canada, not only as a cartoonist, but as a journalist, TV personality, author, entrepreneur and humanitarian. A man of cheeky humour who brought laughter into the lives of many, Wicks began as a newspaper cartoonist and went on to publish 43 books of his works. He, along with his wife Doreen, was a member of the Order of Canada. One of his many friends, Ontario Chief Justice Roy McMurtry, said that in his experience, "everyone who knew Ben felt better about life and themselves simply by being in his company."
Wicks was born in London, England in 1926. As a child, he was evacuated to the country during wartime, but at 14 returned to the city and the bombings and got his first job as a shipping clerk.
"I was bloody hopeless at school," he recalled. "Left at 14 and they were as pleased to see me go as I was."
He took evening classes at an art school. "They told me I should take up something else, so I quit. "They were right, I still can't draw," he said, years after becoming a highly successful cartoonist.
Wicks has many occupations, both in England and Canada, including barrow boy, purse maker, electrician's mate, clog maker, window cleaner, janitor, milkman, army musician and weekly newspapers subscription salesman.
And then his first child Vince was born.
"We spent many nights in his first few weeks of life staring at him to convince ourselves that this was indeed our child. Although neither Doreen nor I are religious, from the day of his birth I knew there were such things as miracles. They happen every day, whenever a child is born."
Vince, himself a cartoonist, recalled that he and his father had "a terrific life together." "He was the type of dad who was always at hockey games. He was always there for you, particularly if times were tough. I remember when I was living in Vancouver that if anything came up he'd be on the plane the next day."
When his term in the army was almost over, Wicks picked up a book that taught him how to draw and market cartoons. "You were suppose to start off by sending them to the top paying magazines and work down," he recalled. "So I sent off six to the top one, Saturday Evening Post."
The magazine wrote back saying they never took work from unknowns but if I could supply letters of reference explaining who I was, they'd take three. It took me about five minutes to fake some letters of reference.
It was the beginning of a great career. He drew cartoons for western newspapers and in 1963 moved to Toronto to work for the now-defunct Toronto Telegram. Over the years, he drew for the Toronto Telegram Syndicate, The Saturday Evening Post, the Toronto Star, and the Toronto Star Syndicate, the Los Angeles Times Syndicate and King Features NY.
His cartoon strip, The Outcasts, appeared in 52 Canadian newspapers and his single cartoon ran daily in 84 Canadian and 100 US newspapers.
"I had admired the single-panel Ben Wicks cartoons for years," his friend and standup comic Dave Broadfoot said. "Those cartoons worked like what is called a "blackout" on stage - a comic idea that lasts 30 seconds with one strong, self-explanatory punch line. Not easy to do. That's what Ben's cartoons were: funny, political and brief."
Wicks later developed his own TV program, The World of Wicks, interviewing such personalities such as Ingrid Bergman, Michael Caine, Sir Edmund Hillary and Charlton Heston. He also wrote a number of books, including Ben Wicks Canada, Book of Losers, Ben Wicks Book of Etiquette and The Boys Came Marching Home. The I.Can Foundation was established to provide education and literacy programs, such as Born To Read, for children. It was his love of children that prompted his participation with Regional Maple Leaf's family of children's magazines, drawing the cartoon characters for the Elementary Safety Book for Children, Drug Facts For Young People and the Teenage Survival Handbook.
Ben Wicks died on September 10th, 2000, leaving behind his wife Doreen (1935 - 2003), son Vincent, daughters Susan and Kim, eight grandchildren and a host of friends and fans.