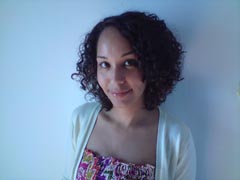 Born and raised in beautiful British Columbia, Ingrid's two artistic parents influenced her to pursue a career in the arts.
After receiving a degree in design from Ontario College of Art and Design, she found her niche at Sheridan College in the post grad illustration program. It is hard to say if she was more inspired by the teachers there, or by her fellow classmates, some very talented ladies. Since graduating, she has been working with the help of her laptop as a textbook illustrator/print designer, but her main love has and will always be creating things from scratch with either a pencil or paintbrush.
Ingrid currently resides in Toronto, Ontario. The award money will enable her to take some much needed time off to finally finish some of the large canvasses that have been accumulating in her hallway, and to develop her website ingridmesquita.com.