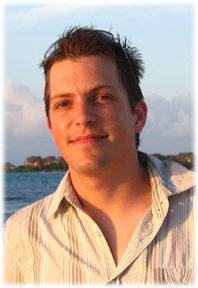 Jeff, the youngest sibling of a boys-only family, was born and raised in one of Canada's southernmost towns, Harrow...a beautiful place to grow. Like every young budding artist, he began early developmental art with sidewalk chalk and a cul de sac full of pavement as his drawing board. Since colouring in-between the lines was a cinch and his creativity was uncapped by his childhood, he continued to sketch and create characters that filled his imagination and entertained his personality. As of then, watching TV's golden days of animation, colouring books and drawing were now part of his advanced curriculum.
Encouragement from his parents, grandparents, peers and from grade school teachers allowed him to further his part-time hobby to his fulltime obsession. Currently, he works as a computer animator for a Toronto-based company, and works as a freelance illustrator for linkartists.com.
With the Ben Wicks Award, Jeff plans to pay back his school loan sharks and continue his attraction to art, through needy projects and feverish ideas.
Comments are always welcome at jeffepp@3web.com.
Jeff says, "Special gratitude to God, My Family, My wife Margaret, and to the head cold that brought me into the doctor's office to read about this beneficial contest!"