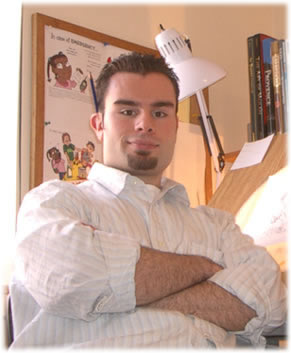 Gabriel was born and raised in Orleans, a French suburb outside of Ottawa. Fueled by a fascination with Saturday morning cartoons, his obsession with illustration and animation developed at an early age. He began to take art seriously at age thirteen, and pursued it all through his public education.
Enrollment in the Animation program at Algonquin College introduced him to a whole new understanding of the craft.
Gabriel's dream is to produce his own animated features, T.V. shows and comic books. The generosity conferred by the Ben Wicks Award will help him to achieve his aspirations and advance his creative dexterity.
"Special thanks to my ever-encouraging and guiding parents, my two loving sisters, and my buddy Roch-Alain for letting me know about this incredible contest!"
2011 Update: Gabriel is currently working for cforp.on.ca, doing Flash animations for online educational courses. When not drawing, he's busy teaching Taekwon-Do as a 4th degree black belt with the International Taekwon-Do Federation. In other news, he and his wife Anne-Sophie have a son, Kingston.
Fans can contact Gabriel by e-mail at gabe_cartoon@hotmail.com