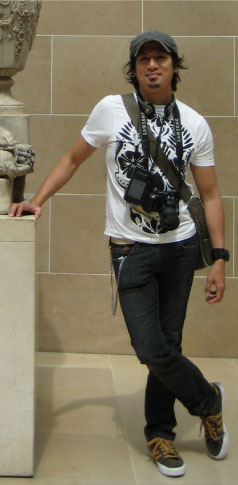 Henry was born in Hong Kong and his family immigrated to Canada in 1986. He is a graduate of Central Technical Art centre (illustration and photography 1994) Sheridan College's internationally renowned Classical Animation Program 1999. Henry has worked as a lighting artist at TFX Animation on the CG IMAX film, "The Boxer."
He has also created conceptual art for several commercials and a feature animation production entitled, "Dragons," for Bardel Entertainment. He contributed to the Discovery Channel documentary, "Great Warming," and worked as a storyboard artist for the 3D animation project, "Amazon Soul."
Henry currently resides in Montreal, Canada. He plans to use the prize money towards the promotion of his arts, and his aspirations as a production designer.
2011 Update: He has worked in the film and television industry based in Toronto and Montreal as a conceptual artist, character designer for feature films and game trailers, as a freelance illustrator and graphic designer for various entertainment media.
Henry's clients include: Universal Pictures: (Tarsem Singh: Immortals,2010. The Mummy: Tomb of the Dragon Emperor, 2007. Death Race, 2008). Lion Gate Films: (The Punisher War Zone, 2008) SK Films Toronto: ( Journey To Mecca IMAX, 2009 Atlantic records: ( Billy talent II), Warner Music Canada: (Billy Talent 666 Live DVD) Universal Music Canada, Ubisoft Entertainment Canada: (Prince of Persia, And Streetball, Splinter Cell, & FarCry Instinct) just to name a few.
To contact Henry visit his website at www.henryfong.ca