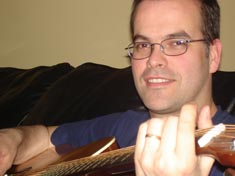 Clinton Baker was born in Toronto, Ontario and grew up in the small community of St. Jude's, Newfoundland. From a very young age he was influenced by Jim Henson's Muppet Show and Uderzo & Goscinny's Asterix and Obelix. But it wasn't until he read his first Garfield book that his passion for cartooning began. Spending most of his time as an amateur cartoonist and being self taught, Clint's past works have included logo designs, greeting & business cards, T-shirt designs, a cartoon strip and even a few oil paintings.
With the award money, Clint plans to pay off some debt, treat his wife and children to a small vacation, and update his home office. Clint would like to thank his son Joshua for finding The Elementary Safety Book for Children at the doctor's office, his Mother for always encouraging him to keep drawing, and to his brother Damien who taught him how to use Photoshop. "My Mom once sent me an illustrated book on animals with some really basic drawings. There was no letter inside but just a short note that said "If this can get published, then anything can. Don't stop drawing!" (Thanks for that Mom)
Clint would especially like to give thanks to Jesus for opening this door as an answer to prayer. Currently, he resides in North Vancouver, British Columbia with his wife Melissa and three children Stephen, Naomi and Joshua.
2011 Update: One of Clint's dreams was to write children's stories about safety. He recently finished two books on children's safety titled "Bicycle Safety" and "Swimming Pool Safety". The stories are about four friends named "Safe & Happy, along with their other two friends "Risky and Sorry" Next he will do "Fire Safety". Clint has also finished a book for a friend titled "Grecko the Gecko Starts School" and is now working on a hockey-themed Grecko book called "Teamwork Wins The Game". To contact Clint send him an e-mail baker007@telus.com.