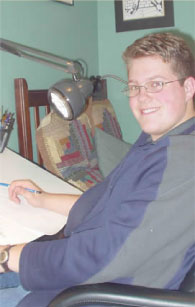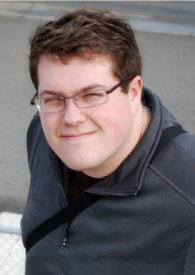 Stephen Downer is 17 years old, home educated, and in his senior year of high school.
Completely self-taught, Stephen started drawing at age 9 and just never stopped. He spends an average of 2 1/2 - 4 hours a day drawing, in addition to his school and a part-time job. With a portion of the winnings from this contest, Stephen plans to buy a new computer & a mountain bike. The rest will go into the bank, perhaps going toward art college. Stephen hopes to become a professional digital colorist soon. Barring that, he would like to explore the field of architectural rendering, and maybe commercial illustration.
Stephen resides in Big Sky, Montana, with his family of 13. He would like to thank his parents for being so supportive and God, for blessing him with the talent he has.
2011 Update: Stephen says that the experience gained from the work done with Regional Maple Leaf has served him well in his further work as an artist and illustrator. Currently, he works as a digital colorist and illustrator in the comics industry, where his work can be seen on books like Elric: The Balance Lost, Sonic Universe, and Dracula: The Company of Monsters, as well as pursuing his own projects.
Steve can be found online at downerillustration.com or at twitter.com/downersteve