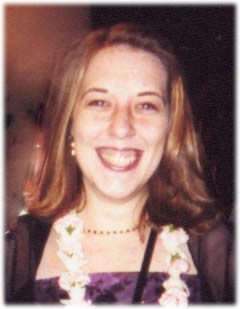 Brianne was born in Othello, WA. She grew up in the small farming town spending much of her free time drawing, sketching, and talking to cows. Her parents are farmers of the area and raise some gigantic mutant potatoes. She also has a younger brother who helped form her odd sense of humor.
Brianne has always had a strong interest in animation and helped her local high school start up an animation class for the students there. Art teacher extraordinaire, Mr. Michael Lewis, currently teaches the class. Brianne received a scholarship from the NFAA (National Foundation for Advancement of the Arts) in 1999 for her short film, "Yippie the Accident Prone Dog". She was then able to attend California Institute of the Arts (Cal Arts) for character animation. She spent her third summer in Los Angeles interning at independent animation studio July Films, on their first feature film, "My Little World". After finishing four individual student films, she completed the character animation program with a BFA in 2002. After graduation, she spent a year animating for videogames and has done freelance for various companies.
Brianne would like to use the Ben Wicks Award to continue making her own independent animated films and illustrations. She is still very passionate about animation, even though the animation industry is having a rough time at the moment. It would be a dream to be able to share her films and creations with others.
2011 Update: Since receiving the Ben Wick's Award, Brianne was finally able to afford a decent computer and scanner. She then used it to build a website and put a portfolio together. After applying to various studios, she began working on "Teen Titans" as a character designer at Warner Bros. Animation. Since then she's hopped around to other animated shows and projects, and is currently on "Scooby Doo Mystery Incorporated". Her first children's book, "Billie the Unicorn" was released this past April. She's hoping to make more books in the future; it was a great creative release.
Brianne adds: "Regional Maple Leaf was a great help; when I graduated college it was difficult finding work as many studios were downsizing. It was a needed boost to get me through a tough time, and allow me the chance I needed to move forward."
Brianne's website is briannedrouhard.com, her blog is at potatofarmgirl.blogspot.com and her book is available at billietheunicorn.com