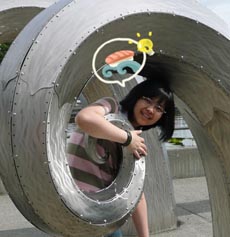 To pursue her passion for drawing (despite the last-minute nerve-racking decision), Agnes flew from the tropical equator to chilly Canada for Sheridan College's Animation program.
The snow might not always be nice, but thank God, it was the right choice after all; she befriended the weather and got introduced to many, many, MANY new wonderful things about art and animation and never thought she would love them so much! Influenced by Eastern style drawings, Agnes enjoys learning and to fuse styles and medias, because one is never enough. The exciting cultures across the world and beyond is her perimeter and she would love to go to as many places as possible, get inspired and draw more inspiring things... as well as discovering good food.
With the award and her drawings, she hopes to make a mark in this big world, to fulfill her dreams, pamper her parents and family, buy a dog and travel (and experiencing good eating in the process!)
2011 Update: Agnes has just finished a contract and is now doing freelance and realizing a lot of her own personal ideas. You can contact Agnes at hanpeita_05@yahoo.com and see more of her works at pastelize.com.