Mounted Police Foundation / RCMP Foundation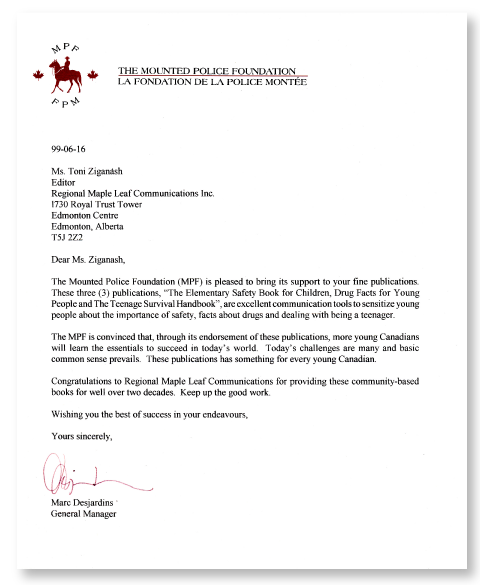 The Mounted Police Foundation / RCMP Foundation was incorporated in June of 1984 as the Master Licensee for the RCMP to receive, maintain and manage funds generated from the licensing program. These funds are directed to support RCMP community policing, public relations and educational crime prevention programs throughout Canada.
Any community in Canada with the support and participation of their local RCMP detachment, may initiate an application for their project's funding. Each application goes through a review board and funding recommendations are forwarded to the Board of Directors of the Foundation. Projects are funded each spring and fall and the Foundation distributes approximately $250,000 annually.
To receive and maintain the endorsement (not funding) of the Foundation, RMC's publications went through rigorous review by the RCMP's educational division and the Foundation requires current copies of each year's edition for the endorsement to remain current.
In spite of the Mounted Police Foundation's endorsement being printed on the covers of our publications, some competitors were suggesting to our clients that we were fraudulently displaying that endorsement. To alleviate the number of inquiries coming through to the Foundation, they have posted our logo on their partner's page. Green Planet for Kids and all four accompanying websites (ElementarySafety.com, DrugFacts4YoungPeople.com, TeenageSurvival.com and GreenPlanet4Kids.com were included in the endorsement as of April 1, 2014.
June 2014 marked our 15th anniversary of endorsement. To the right is our original endorsement letter dated June 1999. We are proud to be a partner with The Foundation and continue to provide quality educational materials to the community.