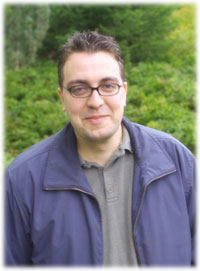 Greg Moran, a born and bred Victorian, happily spent his early years drawing on the back of work forms that his father would bring home by the box-loads, starting an initial dabbling in drawing his comic books. Greg's love for art quickly grew as he found inspiration in everything from wildlife paintings to television.
As most of his skills were self-taught, Greg quickly found a passion to try out new techniques and styles, not limiting himself to one medium. With the advent of computers in his life, Greg quickly took to the quick and adaptable ability that graphics programs offered, finding a distinct balance between art and technology.
Prior to winning the Ben Wick's award, one of Greg's largest achievements was being commissioned to paint a 55 foot mural for a recreation centre. Since then Greg has been using his creative juices as a web and multimedia designer at Royal Roads University. Greg plans to use the Ben Wicks Award to give his dream of becoming a children's book illustrator a kick start.
Greg would like to thanks most importantly his wife and son for their inspiration and support who without this "dream come true" would never have been possible.
2011 Update: Greg is working full-time as creative lead for Udutu Online Learning Solutions. His web comic site is jedigambit.wordpress.com and his email is gregisalways@shaw.ca