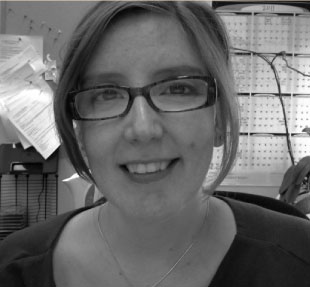 Tanya was born in Olds, Alberta and spent much of her childhood moving from place to place. Through all the new towns, new schools and new faces, one thing never changed.
"All I wanted to do was be an artist," she says. "Wherever we lived, I spent most of my time drawing pictures of it." In the early eighties, Tanya's family finally settled in the Edmonton area. Through junior high and high school, she took any art classes she could find, entered contests, and had her work displayed in various art shows. After high school came several years at the University of Alberta, where Tanya studied English, Fine Art, and Art History. In 1996 she was admitted to Grant MacEwan Community College, where she pursued a diploma in illustration and graphic design.
Tanya feels she owes most of her success to her family and friends. "It's easy to say you want to draw for a living," she says, "but it's a lot harder to actually do it. Without the love and support I've had from my parents, my sisters and my best friend, I wouldn't be where I am."
She intends to use the prize money from the Ben Wicks Award to relocate to Vancouver and pursue her career as an artist, illustrator and designer.
2011 Update: Since winning the Ben Wicks award in 2002, many things have changed for Tanya. She is currently enjoying a successful career as an editor, graphic designer, and freelance artist. Her work can be viewed at tfday.com.
Tanya's also enjoying a successful and fulfilling personal life, having married the love of her life more than two years ago. She and her husband are also anticipating the birth of their first child in July, 2011.