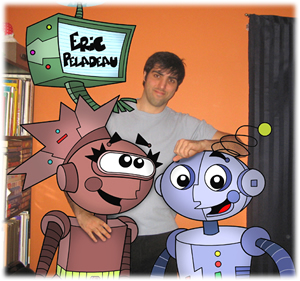 The quiet and gentle giant from the Capital region of Canada has been walking toward his dreams since he can remember. At a very young age Eric Peladeau fell in love with cartooning and spent most of his free time practicing the ninth art.
With his talents more concentrated in his storytelling and creativity, his first art training came with his college education with Graphic Design at La Cité Collégial and Television Animation at Algonquin College. These years propelled him to the next level.
After college, Eric decided to work for himself as a freelancer doing illustration, animation, design and added two more notches to his belt by learning web design and programming. While working on incredible and diversified projects, he is also in the midst of publishing his first two children's books.
The contest's earnings will help Eric buy some new software for his computer and part of it will also be put toward the purchase of his first house where he plans to have a bigger studio office. Eric would like to thank his fiancé Marie-Christine for her support, his friend Manon Bourgeois for telling him about this contest, and the people in charge of the Ben Wick's contest for giving him this great opportunity.
2011 Update: Eric reports that his career pretty much took off after winning the Ben Wicks Award. He's published 4 picture books, one of them won a literary prize in 2008 (Le prix littéraire LeDroit) and published 3 comic books. He freelances for various magazines, notably writes and draw for Safarir, a popular French humor magazine kind of like Mad. He's also drawn many book covers and picture books for numerous publishers (over 50 books and counting). He has a picture book and a comic book currently in the works. Eric also won a prize for up and coming artist in 2010 (Prix de la relève des Culturiades) and started directing a comic book collection with Premières Lignes.
His biggest accomplishments - his two children, a four year old and a two year old.
Contact Eric at eric_peladeau@hotmail.com, and vist his website at ericpeladeau.net.