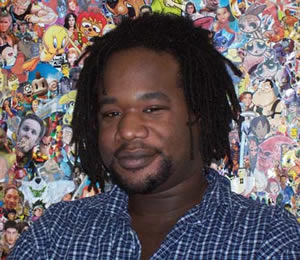 Rob was fascinated by cartoons at an early age and by the time he was 7, had developed a talent to draw them. After seeing "Who Framed Roger Rabbit", he knew his future lie in animation. He started drawing his personal group of characters and developing his own style. By the time he had finished high school, he had started his own cartooning company, Gob-Gob Inc.
He graduated from the animation program at Algonquin College in 2005. Since then, he has worked on a few animated TV shows and is also an aspiring voice actor.
Rob believes he may hold the world record for the largest collage of over 8600 pictures, however Guiness is yet to confirm this.
With his winnings, Rob intends to continue working on his student film from animation class, make a demo tape of voices and finance his future artistic endeavors. He would like to thank his friends and family for their continued support. He makes his home in Kanata, Ontario.
2011 Update: Rob says his work has been mainly focused on drawing as per his clientel. He has been doing caricatures, logos and colouring books and trying to break back into animation through voice acting.
To view some of his work go to his profile or his website .Rob can be reached at gobgob@rogers.com.